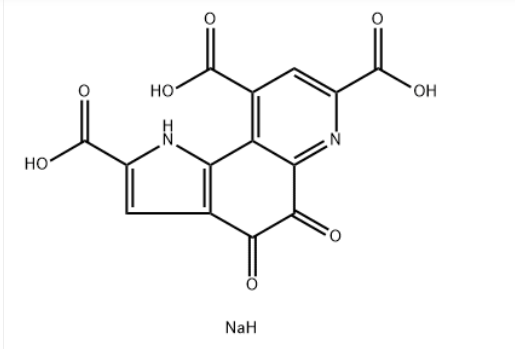 Pyrroloquinoline quinone Dosodium Salt CAS 122628-50-6
Identification
CAS Number
122628-50-6
Name
Pyrroloquinoline quinone Dosodium Salt
Synonyms
122628-50-6 [RN]
1H-Pyrrolo[2,3-f]quinoline-2,7,9-tricarboxylic acid, 4,5-dihydro-4,5-dioxo-, sodium salt (1:2) [ACD/Index Name]
2-Carboxy-4,5-dioxo-4,5-dihydro-1H-pyrrolo[2,3-f]quinoléine-7,9-dicarboxylate de disodium [French] [ACD/IUPAC Name]
Dinatrium-2-carboxy-4,5-dioxo-4,5-dihydro-1H-pyrrolo[2,3-f]chinolin-7,9-dicarboxylat [German] [ACD/IUPAC Name]
Disodium 2-carboxy-4,5-dioxo-4,5-dihydro-1H-pyrrolo[2,3-f]quinoline-7,9-dicarboxylate [ACD/IUPAC Name]
DISODIUM PYRROLOQUINOLINEDIONE TRICARBOXYLATE
PYRROLOQUINOLINE QUINONE DISODIUM SALT
1H-Pyrrolo(2,3-f)quinoline-2,7,9-tricarboxylic acid, 4,5-dihydro-4,5-dioxo-, disodium salt
DISODIUM 2-CARBOXY-4,5-DIOXO-1H,4H,5H-PYRROLO[2,3-F]QUINOLINE-7,9-DICARBOXYLATE
DISODIUM 2-CARBOXY-4,5-DIOXO-1H-PYRROLO[2,3-F]QUINOLINE-7,9-DICARBOXYLATE
Disodium 4,5-dihydro-4,5-dioxo-1H-pyrrolo(2,3-f)quinoline-2,7,9-tricarboxylate
disodium 9-carboxy-4,5-diketo-1H-pyrrolo[5,4-f]quinoline-2,7-dicarboxylate
disodium 9-carboxy-4,5-dioxo-1H,4H,5H-pyrrolo[2,3-f]quinoline-2,7-dicarboxylate
disodium 9-carboxy-4,5-dioxo-1H-pyrrolo[5,4-f]quinoline-2,7-dicarboxylate
Methoxatin (disodium salt)
Methoxatin Disodium
Methoxatin disodium salt
MFCD00151711
PQQ
Pyrrolo-quinoline-quinone disodium salt
Pyrroloquinolinequinone disodium salt;BioPQQ
sodium 2-carboxy-4,5-dioxo-4,5-dihydro-1H-pyrrolo[2,3-f]quinoline-7,9-dicarboxylate
SMILES
c1c2c([nH]c1C(=O)O)-c3c(cc(nc3C(=O)C2=O)C(=O)[O-])C(=O)[O-].[Na+].[Na+]
StdInChI
InChI=1S/C14H6N2O8.2Na/c17-10-4-2-6(14(23)24)15-8(4)7-3(12(19)20)1-5(13(21)22)16-9(7)11(10)18;;/h1-2,15H,(H,19,20)(H,21,22)(H,23,24);;/q;2*+1/p-2
StdInChIKey
UFVBOGYDCJNLPM-UHFFFAOYSA-L
Molecular Formula
C14H4N2Na2O8
Molecular Weight
374.170
EINECS
209-118-9
MDL Number
MFCD00151711
Properties
Appearance
Reddish orange to reddish brown powder
Safety Data
Signal Word
Warning
WGK Germany
3
MSDS Download
Specifications and Other Information of Our
Identification Methods
HNMR, HPLC
Purity
99% min
Heavy Metals
As: ≤1.5ppm
Hg: ≤0.5ppm
Cd: ≤0.5ppm
Pb:≤1ppm
Water
≤12%
TOTAL PLATE COUNT
≤1000CFU/g
YEAST AND MOLD
≤100CFU/g
E. COLI
≤0.92MPN/g
STAPHYLOCOCCUS AUREUS
0/25g
SALMONELLA
0/25g
Shelf Life
2 years
Storage
Store at room temperature, sealed and away from light.
Known Application
Pyrroloquinoline quinone Dosodium Salt,the scientific name of PQQ is pyrroloquinoline quinone, which is a new prosthetic group that can treat heart disease, neurological diseases, protect the liver, and maintain mitochondrial function. Pyrroloquinoline quinone is widely found in prokaryotes, plants and mammals. It is not only the prosthetic group of many enzymes, it is responsible for the function of transferring electrons, protons and chemical groups in enzymatic reactions, and can also stimulate The growth of microorganisms, the germination of plant pollen, and the promotion of plant growth.
General View of Documents
Links
This product is sold exclusively through our sales company Watson International Limited, and please click the link below for details (https://www.watson-int.com/).