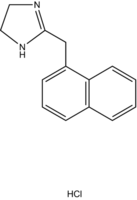 Naphazoline hydrochloride CAS 550-99-2
Identification
CAS Number
550-99-2
Name
Naphazoline hydrochloride
Synonyms
1H-Imidazole, 4,5-dihydro-2-(1-naphthalenylmethyl)-, hydrochloride (1:1) [ACD/Index Name]
2-(1-naphthylmethyl)-4,5-dihydro-1H-imidazole hydrochloride
2-(1-Naphthylmethyl)-4,5-dihydro-1H-imidazole hydrochloride (1:1) [ACD/IUPAC Name]
2-(1-Naphthylmethyl)-4,5-dihydro-1H-imidazolhydrochlorid (1:1) [German] [ACD/IUPAC Name]
2-(1-Naphthylmethyl)imidazoline hydrochloride
2-(1-Naphtylméthyl)-4,5-dihydro-1H-imidazole, chlorhydrate (1:1) [French] [ACD/IUPAC Name]
2-(naphthalen-1-ylmethyl)-4,5-dihydro-1H-imidazole hydrochloride (1:1)
208-989-2 [EINECS]
550-99-2 [RN]
MFCD00012554 [MDL number]
MZ1131787D
Naphazoline hydrochloride [JAN]
Naphcon [Trade name]
NJ4375000
[550-99-2]
1271-42-7 [RN]
1H-Imidazole, 4,5-dihydro-2-(1-naphthalenylmethyl)-, monohydrochloride
2-(1-naphthalenylmethyl)-4,5-dihydro-1H-imidazole chloride
2-(1-Naphthylmethyl)-2-Imidazoline Hydro- Chloride
2-(1-Naphthylmethyl)-2-imidazoline hydrochloride
2-(1-Naphthylmethyl)-2-imidazoline monohydrochloride
2-(1-Naphthylmethyl)-4,5-dihydro-1H-imidazole [ACD/IUPAC Name]
2-(naphthalen-1-ylmethyl)-4,5-dihydro-1H-imidazole
2-(naphthalen-1-ylmethyl)-4,5-dihydro-1h-imidazole hydrochloride
2-(naphthylmethyl)-2-imidazoline, chloride
2-Imidazoline, 2-(1-naphthylmethyl)-, monohydrochloride
35412-62-5 [RN]
4,5-dihydro-2-(1-naphthalenylmethyl)-1H-imidazole, monohydrochloride
4,5-Dihydro-2-(1-naphthylmethyl)-1H-imidazole hydrochloride
Albalon [Trade name]
Albalon liquifilm
c14h15cln2
Clear Eyes
Clera hydrochloride
Comfort Eye Drops
Degest-2
Hydrochloride
HYDROGEN NAPHAZOLINE CHLORIDE
hydron and 2-(naphthalen-1-ylmethyl)-4,5-dihydro-1H-imidazole and chloride
NAFAZAIR
Naphazoline chloride
NAPHAZOLINE HCL
naphazolinehydrochloride
Naphazolini chloridum
Naphazoliniumchlorid
NAPHCON FORTE
Naphcon;Albalon;Vasocon
Naphcon-A [Trade name]
Naphthasolium chloride
Naphthazoline hydrochloride
Naphthylmethylimidazolinhydrochlorid
NEPHAZOLINE HYDROCHLORIDE
Prizole hydrochloride
Rinofug
Stricylon
UNII:MZ1131787D
UNII-MZ1131787D
Vasoclear
VasoClear A
VASOCON
WLN: L66J B1- BT5M CN BUTJ &GH
萘甲唑啉盐酸盐
SMILES
c1ccc2c(c1)cccc2CC3=NCCN3.Cl
StdInChI
InChI=1S/C14H14N2.ClH/c1-2-7-13-11(4-1)5-3-6-12(13)10-14-15-8-9-16-14;/h1-7H,8-10H2,(H,15,16);1H
StdInChIKey
DJDFFEBSKJCGHC-UHFFFAOYSA-N
Molecular Formula
C14H15ClN2
Molecular Weight
246.735
EINECS
208-989-2
MDL Number
MFCD00012554
Properties
Appearance
White crystalline powder
Melting Point
254-260 °C
Safety Data
Personal Protective Equipment
Eyeshields, Faceshields, Gloves, type P2 (EN 143) respirator cartridges
RIDADR
NONH for all modes of transport
WGK Germany
3
RTECS
NJ4375000
Specifications and Other Information of Our Naphazoline hydrochloride CAS 550-99-2
Identification Methods
IR
Assay
99.0%~101.00%
Naphazoline
Should not detected
Loss on Drying
≤ 0.5%
Residue on Ignition
≤ 0.2%
Residual solvent
Ethanol≤ 0.5%
pH
5.0~6.6
Organic impurities
Naphazoline related compound A
≤0.1%
1-Naphthylacetic acid
≤0.1%
Any individual unspecified mpurity
≤0.1%
Total impurities
≤0.5%
Storage
Under room temperature away from light
Known Application
The product is a kind of vasoconstrictor commonly used in the otolaryngology and ophthalmology of hospitals at present. It is an adrenaline-like medicine. It plays an anti-inflammatory and analgesic role in localized tissues where inflammation occurs, and can eliminate congestion caused by fatigue or other reasons. . For the treatment of colds, acute and chronic rhinitis, allergic Chemicalbook conjunctivitis, allergic and inflammatory nasal congestion.
Links
Watson International Ltd
This product is sold exclusively through our sales company Watson International Ltd, and please click the link below for details.
http://www.watson-int.com/naphazoline-hydrochloride-cas-550-99-2/