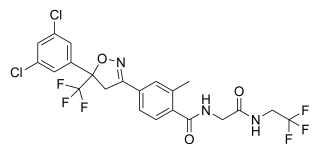 Fluralaner CAS 864731-61-3
Identification
CAS Number
864731-61-3
Name
Fluralaner
Synonyms
4-[5-(3,5-Dichlorophenyl)-5-(trifluoromethyl)-4,5-dihydro-1,2-oxazol-3-yl]-2-methyl-N-{2-oxo-2-[(2,2,2-trifluoroethyl)amino]ethyl}benzamide [ACD/IUPAC Name]
4-[5-(3,5-Dichlorophényl)-5-(trifluorométhyl)-4,5-dihydro-1,2-oxazol-3-yl]-2-méthyl-N-{2-oxo-2-[(2,2,2-trifluoroéthyl)amino]éthyl}benzamide [French] [ACD/IUPAC Name]
4-[5-(3,5-Dichlorphenyl)-5-(trifluormethyl)-4,5-dihydro-1,2-oxazol-3-yl]-2-methyl-N-{2-oxo-2-[(2,2,2-trifluorethyl)amino]ethyl}benzamid [German] [ACD/IUPAC Name]
864731-61-3 [RN]
A1443
AH252723
Benzamide, 4-[5-(3,5-dichlorophenyl)-4,5-dihydro-5-(trifluoromethyl)-3-isoxazolyl]-2-methyl-N-[2-oxo-2-[(2,2,2-trifluoroethyl)amino]ethyl]- [ACD/Index Name]
Fluralaner [French] [INN]
Fluralaner [INN] [USAN]
Fluralaner, (R)-
Fluralaner, (S)-
UNII:WSH8393RM5
WSH8393RM5
флураланер [Russian]
氟雷拉纳 [Chinese]
1122022-02-9 [RN]
1122022-03-0 [RN]
4-(5-(3,5-dichlorophenyl)-5-(trifluoromethyl)-4,5-dihydroisoxazol-3-yl)-2-methyl-N-(2-oxo-2-((2,2,2-trifluoroethyl)amino)ethyl)benzamide
4-[5-(3,5-dichlorophenyl)-4,5-dihydro-5-(trifluoromethyl)-3-isoxazolyl]-2-methyl-N-[2-oxo-2-[(2,2,2-trifluoroethyl)amino]ethyl]-benzamide
4-[5-(3,5-dichlorophenyl)-5-(trifluoromethyl)-4H-1,2-oxazol-3-yl]-2-methyl-N-[2-oxo-2-(2,2,2-trifluoroethylamino)ethyl]benzamide
fluralanerum
MFCD30533410
флураланер
SMILES
Cc1cc(ccc1C(=O)NCC(=O)NCC(F)(F)F)C2=NOC(C2)(c3cc(cc(c3)Cl)Cl)C(F)(F)F
StdInChI
InChI=1S/C22H17Cl2F6N3O3/c1-11-4-12(2-3-16(11)19(35)31-9-18(34)32-10-21(25,26)27)17-8-20(36-33-17,22(28,29)30)13-5-14(23)7-15(24)6-13/h2-7H,8-10H2,1H3,(H,31,35)(H,32,34)
StdInChIKey
MLBZKOGAMRTSKP-UHFFFAOYSA-N
Molecular Formula
C22H17Cl2F6N3O3
Molecular Weight
556.285
MDL Number
MFCD30533410
Properties
Structure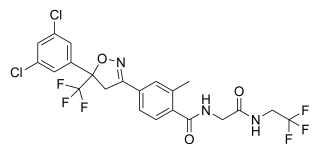 structure of Fluralaner CAS 864731-61-3
Safety Data
Symbol
Signal Word
Warning
WGK Germany
3
MSDS Download
Specifications and Other Information of Our
Identification Methods
HNMR, HPLC
Known Application
Fluralaner is a systemic insecticide and acaricide that is administered orally or topically. The U.S. Food and Drug Administration (FDA) approved it under the trade name Bravecto for flea treatment in dogs in May 2014 and Bravecto Plus as a topical treatment for cats in November 2019, with warnings about possible side effects in both species. The EU approved the drug in February 2014. Australia approved it for the treatment and prevention of ticks and fleas on dogs in January 2015.
General View of Documents
Links
This product is sold exclusively through our sales company Watson International Limited, and please click the link below for details (https://www.watson-int.com/).