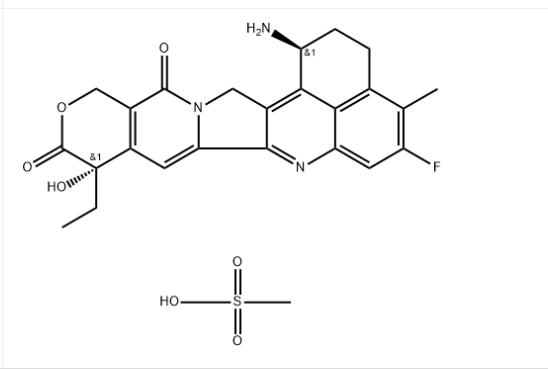 Exatecan mesilate CAS 16969-90-38
Identification
CAS Number
16969-90-38
Name
Exatecan mesilate
Synonyms
(1S,9S)-1-Amino-9-ethyl-5-fluoro-9-hydroxy-4-methyl-1,2,3,9,12,15-hexahydro-10H,13H-benzo[de]pyrano[3′,4′:6,7]indolizino[1,2-b]quinoline-10,13-dione methanesulfonate (1:1) [ACD/IUPAC Name]
10H,13H-Benzo[de]pyrano[3′,4′:6,7]indolizino[1,2-b]quinoline-10,13-dione, 1-amino-9-ethyl-5-fluoro-1,2,3,9,12,15-hexahydro-9-hydroxy-4-methyl-, (1S,9S)-, methanesulfonate (1:1) (salt) [ACD/Index Name]
169869-90-3 [RN]
Acide méthanesulfonique – (1S,9S)-1-amino-9-éthyl-5-fluoro-9-hydroxy-4-méthyl-1,2,3,9,12,15-hexahydro-10H,13H-benzo[de]pyrano[3′,4′:6,7]indolizino[1,2-b]quinoléine-10,13-dione (1:1) [French] [ACD/IUPAC Name]
EXATECAN MESYLATE ANHYDROUS
Methansulfonsäure –(1S,9S)-1-amino-9-ethyl-5-fluor-9-hydroxy-4-methyl-1,2,3,9,12,15-hexahydro-10H,13H-benzo[de]pyrano[3′,4′:6,7]indolizino[1,2-b]chinolin-10,13-dion (1:1) [German] [ACD/IUPAC Name]
(1S,9S)-1-amino-9-ethyl-5-fluoro-9-hydroxy-4-methyl-1,2,3,9,12,15-hexahydro-10H,13H-benzo[de]pyrano[3′,4′:6,7]indolizino[1,2-b]quinoline-10,13-dione,methanesulfonic acid
(1S,9S)-1-amino-9-ethyl-5-fluoro-9-hydroxy-4-methyl-2,3,12,15-tetrahydrobenzo[de]pyrano[3′,4′:6,7]indolizino[1,2-b]quinoline-10,13(1H,9H)-dione methanesulfonate
169869-90-3 (mesylate)
171335-80-1 [RN]
5-(2,5-Dimethyl-4-(prop-1-en-1-yl)phenoxy)-2,2-dimethylpentanoic acid
DX 8951f
DX8951f
DX-8951f
DX8951f;DX 8951f;DX-8951f
Exatecan (Mesylate)
Exatecan mesilate
Exatecan Meslate
Exatecan Mesylate [USAN]
MFCD04113012
SMILES
CC[C@@]1(c2cc-3n(c(=O)c2COC1=O)Cc4c3nc5cc(c(c6c5c4[C@H](CC6)N)C)F)O.CS(=O)(=O)O
StdInChI
InChI=1S/C24H22FN3O4.CH4O3S/c1-3-24(31)14-6-18-21-12(8-28(18)22(29)13(14)9-32-23(24)30)19-16(26)5-4-11-10(2)15(25)7-17(27-21)20(11)19;1-5(2,3)4/h6-7,16,31H,3-5,8-9,26H2,1-2H3;1H3,(H,2,3,4)/t16-,24-;/m0./s1
StdInChIKey
BICYDYDJHSBMFS-GRGFAMGGSA-N
Molecular Formula
C25H26FN3O7S
Molecular Weight
531.553
MDL Number
MFCD04113012
Properties
Appearance
pale yellow solid
Safety Data
Symbol
WGK Germany
3
Specifications and Other Information of Our
Identification Methods
HNMR
Purity
98% min
Shelf Life
2 years
Storage
Store at 2-8℃ for long time, sealed.
Known Application
Exatecan-mesilate is a medication that is primarily used for the treatment of certain cancers. It belongs to a class of drugs called topoisomerase I inhibitors, which work by blocking the replication and repair processes of DNA, inhibiting the growth and spread of cancer cells. Exatecan-mesilate is widely used in the treatment of malignancies such as ovarian cancer and small cell lung cancer. Exatecan-mesilate binds to DNA, inhibiting the activity of topoisomerase I and leading to DNA damage and cell apoptosis in cancer cells. In addition to being used as a monotherapy, Exatecan-mesilate it can also be used in combination with other anticancer drugs to enhance treatment efficacy. It is employed as a frontline or salvage therapy option, typically determined by healthcare professionals based on the specific circumstances and cancer type of the patient.
General View of Documents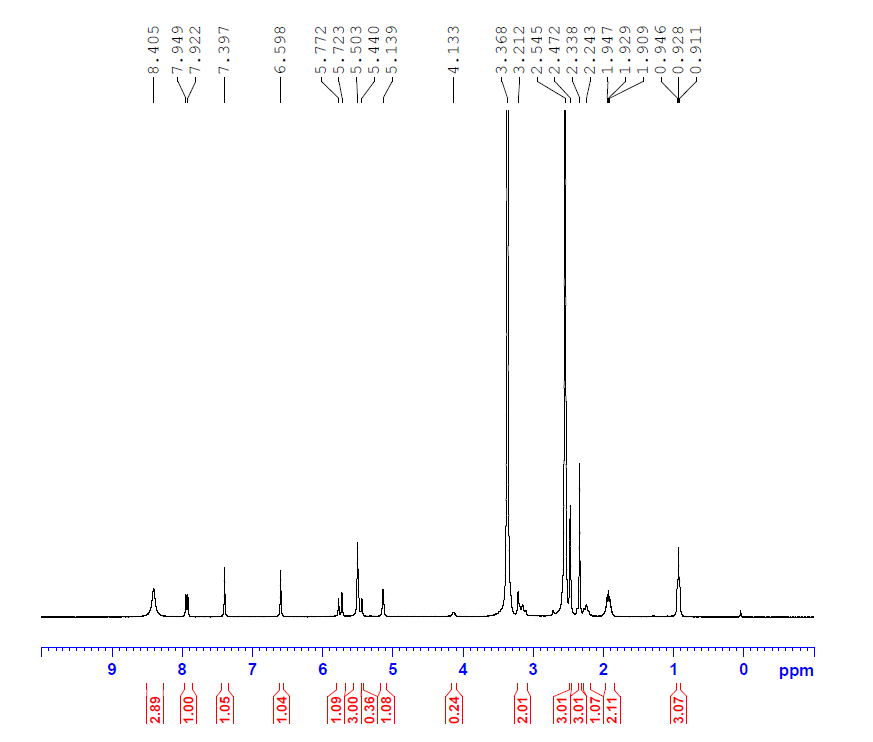 HPLC of exatecan mesilate CAS16969-90-38
NMR of exatecan mesilate CAS16969-90-38
Links
This product is sold exclusively through our sales company Watson International Limited, and please click the link below for details (https://www.watson-int.com/).