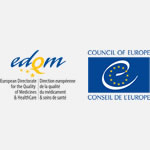 EDQM
The Vision of the EDQM(European Directorate for the Quality of Medicines)
a Directorate of the Council of Europe created in 1964.
a leading organisation that protects public health by enabling the development, supporting the implementation and monitoring the application of quality standards for safe medicines and their safe use.
Develops also guidance and standards in the areas of blood transfusion, organ transplantation and consumer health issues.
Main objective is to provide common quality standards to control the quality of medicines and of substances used in the manufacture of medicines (human and veterinary use). Legally binding in European member states. 38 signatory parties (including the EU) and 27 observers (including WHO) as of 09 April 2014.