Ciclesonide CAS 126544-47-6 (141845-82-1)
Identification
CAS Number
126544-47-6 (141845-82-1)
Name
Ciclesonide
Synonyms
(R)-11b,16a,17,21-Tetrahydroxypregna-1,4-diene-3,20-dione cyclic 16,17-acetal with cyclohexanecarboxaldehyde 21-isobutyrate
2-[(4aR,4bS,5S,6aS,6bS,8R,9aR,10aS,10bS)-8-Cyclohexyl-5-hydroxy-4a,6a-dimethyl-2-oxo-2,4a,4b,5,6,6a,9a,10,10a,10b,11,12-dodecahydro-6bH-naphtho[2′,1′:4,5]indeno[1,2-d][1,3]dioxol-6b-yl]-2-oxoethyl 2-m ethylpropanoate
ethylpropanoat
ethylpropanoate
Alvesco
Omnair
Omnaris
Osonide
Molecular Structure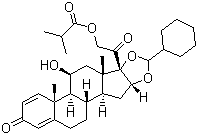 SMILES
O=C(OCC(=O)[C@]25O[C@@H](O[C@@H]5C[C@H]1[C@H]4[C@H]([C@@H](O)C[C@@]12C)[C@]/3(/C=CC(=O)C=C3CC4)C)C6CCCCC6)C(C)C
StdInChI
InChI=1S/C32H44O7/c1-18(2)28(36)37-17-25(35)32-26(38-29(39-32)19-8-6-5-7-9-19)15-23-22-11-10-20-14-21(33)12-13-30(20,3)27(22)24(34)16-31(23,32)4/h12-14,18-19,22-24,26-27,29,34H,5-11,15-17H2,1-4H3/t22-,23-,24-,26+,27+,29+,30-,31-,32+/m0/s1
StdInChIKey
LUKZNWIVRBCLON-GXOBDPJESA-N
Molecular Formula
C32H44O7
Molecular Weight
540.69
Properties
Appearance
Off-white to white crystalline powder
Flash Point
209.975 °C
Boiling Point
664.979 °C at 760 mmHg
Density
1.237 g/ml
Safety Data
Personal Protective Equipment
Eyeshields, Gloves
Specifications and Other Information of Our Ciclesonide CAS 126544-47-6 (141845-82-1)
Purity
99.0%min(HPLC)
Isomer
0.5% max(Higher Isomer percentage may affect the activity of ingredient)
Single Impurity
0.1% max
Known Application
Ciclesonide(126544-47-6 (141845-82-1)) is a glucocorticoid used to treat asthma and allergic rhinitis. It is marketed under the brand name Alvesco for asthma and Omnaris/Omniair for hay fever in the US and Canada. Phase 3 trials for the hay fever indication outside the US are ongoing.The drug was approved for adults and children 12 and over by FDA in October 2006.Side effects of the medication include headache, nosebleeds, and inflammation of the nose and throat linings.
More Information of Final Medicine
The consumption of Ciclesonide active ingredient is 160μg/time, and 1 time/day.
Productivity
kg scale
Watson-Int Link
http://watson-int.com/Ciclesonide_CAS_126544-47-6(141845-82-1).html