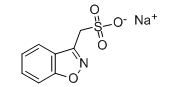 1,2-Benzisoxazole-3-methanesulfonic acid sodium salt CAS 73101-64-1
Identification
CAS Number
73101-64-1
Name
1,2-Benzisoxazole-3-methanesulfonic acid sodium salt
Synonyms
1,2-Benzisoxazole-3-methanesulfonic acid, sodium salt (1:1) [ACD/Index Name]
1,2-Benzoxazol-3-ylméthanesulfonate de sodium [French] [ACD/IUPAC Name]
5681184 [Beilstein]
73101-64-1 [RN]
Natrium-1,2-benzoxazol-3-ylmethansulfonat [ACD/IUPAC Name]
Natrium-1,2-benzoxazol-3-ylmethansulfonat [German] [ACD/IUPAC Name]
Sodium 1,2-benzoxazol-3-ylmethanesulfonate [ACD/IUPAC Name]
T56 BONJ D1SWQ &&Na salt [WLN]
[73101-64-1]
1,2-benzisoxazole-3-methanesulfonic acid sodium
1,2-benzisoxazole-3-methanesulfonic acid sodium salt
1,2-benzisoxazole-3-methanesulfonicacidsodiumsalt
benzo[d]isoxazol-3-ylmethanesulfonic acid, sodium salt
http://en.atomaxchem.com/73101-64-1.html
MFCD07782146 [MDL number]
Sodium 2-(1,2-benzisoxazol-3-yl)methanesulfonate
Sodium benzo[d]isoxazol-3-ylmethanesulfonate
sodium indoxazen-3-ylmethanesulfonate
SMILES
c1ccc2c(c1)c(no2)CS(=O)(=O)[O-].[Na+]
StdInChI
InChI=1S/C8H7NO4S.Na/c10-14(11,12)5-7-6-3-1-2-4-8(6)13-9-7;/h1-4H,5H2,(H,10,11,12);/q;+1/p-1
StdInChIKey
QILCHBOPDIODSB-UHFFFAOYSA-M
Molecular Formula
C8H6NNaO4S
Molecular Weight
235.192
Safety Data
RIDADR
NONH for all modes of transport
Specifications and Other Information of Our 1,2-Benzisoxazole-3-methanesulfonic acid sodium salt CAS 73101-64-1
Storage
Under room temperature away from light
Analysis Note
These products are for test and assay use only. They are not meant for administration to humans or animals and cannot be used to diagnose, treat, or cure diseases of any kind. ​
Links
Watson International Ltd
This product is sold exclusively through our sales company Watson International Ltd, and please click the link below for details.
http://www.watson-int.com/1,2-benzisoxazole-3-methanesulfonic-acid-sodium-salt-cas-73101-64-1/