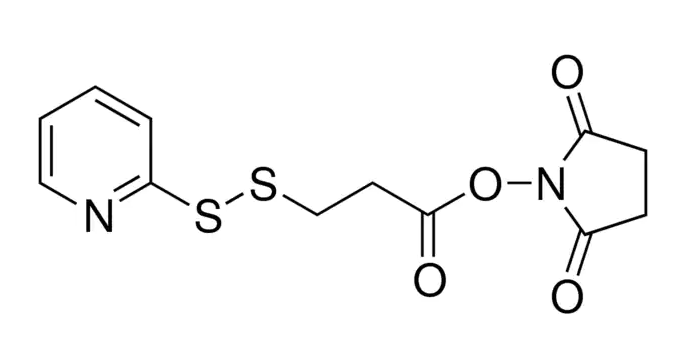 SPDP CAS 68181-17-9
Identification
CAS Number
68181-17-9
Name
SPDP
Synonyms
1-(1-Oxo-3-(2-pyridyldithio)propoxy)pyrrolidine-2,5-dione
1-{[3-(2-Pyridinyldisulfanyl)propanoyl]oxy}-2,5-pyrrolidindion [German] [ACD/IUPAC Name]
1-{[3-(2-Pyridinyldisulfanyl)propanoyl]oxy}-2,5-pyrrolidinedione [ACD/IUPAC Name]
1-{[3-(2-Pyridinyldisulfanyl)propanoyl]oxy}-2,5-pyrrolidinedione [French] [ACD/IUPAC Name]
1-{[3-(Pyridin-2-yldisulfanyl)propanoyl]oxy}pyrrolidine-2,5-dione
2,5-dioxopyrrolidin-1-yl 3-(pyridin-2-yldisulfanyl)propanoate
2,5-Pyrrolidinedione, 1-(1-oxo-3-(2-pyridinyldithio)propoxy)-
2,5-Pyrrolidinedione, 1-[1-oxo-3-(2-pyridinyldithio)propoxy]- [ACD/Index Name]
269-034-3 [EINECS]
68181-17-9 [RN]
MFCD00009636 [MDL number]
N-succinimidyl 3-(2-pyridyldithio)-propionate
N-Succinimidyl 3-(2-pyridyldithio)propionate
SPDP
(2,5-dioxopyrrolidin-1-yl) 3-(pyridin-2-yldisulfanyl)propanoate
(2,5-dioxopyrrolidin-1-yl)3-(pyridin-2-yldisulfanyl)propanoate
(spdp);n-succinimidyl 3-[2-pyridyldithio]propionate
[68181-17-9] [RN]
1-[1-oxo-3-(2-pyridyldithio)propoxy]pyrrolidine-2,5-dione
1334221-34-9 [RN]
2,5-dioxopyrrolidin-1-yl 3-(pyridin-2- yldisulfanyl)propanoate
3-(2-Pyridyldithio)propionic acid N-hydroxysuccinimide ester
3-(2-Pyridyldithio)propionic acid N-hydroxyuccinimide ester
3-(2-Pyridyldithio)propionic Acid N-Succinimidyl Ester
3-(2-Pyridyldithio)-propionic acid-OSu
Nonsymmetrical disulfide analog
N-SUCCINIMIDYL 3,2-(-PYRIDYLDITHIO)PROPIONATE
n-succinimidyl 3-[2-pyridyldithio]propionate
n-succinimidyl3-(2-pyridyldithio)propionate
spdp crosslinker
SPDP NHS ester
SPDP N-Succinimidyl 3-(2-pyridyldithio)propionate
SPDP; N-Succinimidyl 3-(2-pyridyldithio)propionate
SPDP-acid-NHS-ester
SS-0324
SMILES
c1ccnc(c1)SSCCC(=O)ON2C(=O)CCC2=O
StdInChI
InChI=1S/C12H12N2O4S2/c15-10-4-5-11(16)14(10)18-12(17)6-8-19-20-9-3-1-2-7-13-9/h1-3,7H,4-6,8H2
StdInChIKey
JWDFQMWEFLOOED-UHFFFAOYSA-N
Molecular Formula
C12H12N2O4S2
Molecular Weight
312.365
EINECS
269-034-3
Beilstein Registry Number
1548137
MDL Number
MFCD00009636
Properties
Appearance
Off-white crystalline powder
Safety Data
RIDADR
NONH for all modes of transport
WGK Germany
3
Specifications and Other Information of Our SPDP CAS 68181-17-9
Identification Methods
HNMR, HPLC
Purity
95% min
Conductivity
≤20us/cm
Solubility
Soluble in DMF, DCM
Shelf Life
2 years
Storage
Store at 2-8°C for long time, sealed and away from light.
Known Application
SPDP (SPDP Crosslinker) is a cleavable ADC linker that can be used to synthesize antibody-drug conjugates (ADCs) as a general-purpose heterofunctional crosslinker for proteins and enzymes.
Links
This product is developed by our R&D company Watson International Ltd (https://www.watson-int.com/).