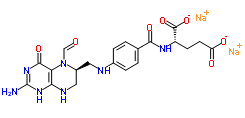 Sodium levofolinate CAS 1141892-29-6
Identification
CAS Number
1141892-29-6
Name
Sodium levofolinate
Synonyms
(2S)-2-{[4-({[(6S)-2-Amino-5-formyl-4-oxo-1,4,5,6,7,8-hexahydro-6-ptéridinyl]méthyl}amino)benzoyl]amino}pentanedioate de disodium [French] [ACD/IUPAC Name]
1141892-29-6 [RN]
Dinatrium-(2S)-2-{[4-({[(6S)-2-amino-5-formyl-4-oxo-1,4,5,6,7,8-hexahydro-6-pteridinyl]methyl}amino)benzoyl]amino}pentandioat [German] [ACD/IUPAC Name]
Disodium (2S)-2-{[4-({[(6S)-2-amino-5-formyl-4-oxo-1,4,5,6,7,8-hexahydro-6-pteridinyl]methyl}amino)benzoyl]amino}pentanedioate [ACD/IUPAC Name]
Disodium (2S)-2-{[4-({[(6S)-2-amino-5-formyl-4-oxo-1,4,5,6,7,8-hexahydropteridin-6-yl]methyl}amino)benzoyl]amino}pentanedioate
LEVOLEUCOVORIN DISODIUM
L-Glutamic acid, N-[4-[[[(6S)-2-amino-5-formyl-1,4,5,6,7,8-hexahydro-4-oxo-6-pteridinyl]methyl]amino]benzoyl]-, sodium salt (1:2) [ACD/Index Name]
163254-40-8 [RN]
Disodium folinate
LEUCOVORIN SODIUM
UNII-4MXU9LJS4Q
SMILES
c1cc(ccc1C(=O)N[[email protected]@H](CCC(=O)[O-])C(=O)[O-])NC[[email protected]]2CNc3c(c(=O)nc([nH]3)N)N2C=O.[Na+].[Na+]
StdInChI
InChI=1S/C20H23N7O7.2Na/c21-20-25-16-15(18(32)26-20)27(9-28)12(8-23-16)7-22-11-3-1-10(2-4-11)17(31)24-13(19(33)34)5-6-14(29)30;;/h1-4,9,12-13,22H,5-8H2,(H,24,31)(H,29,30)(H,33,34)(H4,21,23,25,26,32);;/q;2*+1/p-2/t12-,13-;;/m0../s1
StdInChIKey
FSDMNNPYPVJNAT-NJHZPMQHSA-L
Molecular Formula
C20H21N7Na2O7
Molecular Weight
517.403
Properties
Appearance
White to yellow amorphous or crystalline
Safety Data
RIDADR
Not dangerous goods
WGK Germany
3
Specifications and Other Information of Our Sodium levofolinate CAS 1141892-29-6
Identification Methods
HNMR, HPLC
Purity
97% min
Assay(on anhydrous basis)
97.0-102.0%
Heavy Metals
≤50ppm
Water
≤17%
Related substances
Any other impurity
≤2.0%
Total Impurities
≤3.0%
D-lsorner
≤1.0%
Shelf Life
1 year
Storage
Under room temperature away from light
Known Application
It can be used as an antidote for folic acid antagonists (such as methotrexate, pyrimethamine or trimethoprim, etc.); it can also be used for the treatment of megaloblastic anemia caused by folate deficiency and the treatment of advanced colon and rectal cancer.
Links
Watson International Ltd
This product is sold exclusively through our sales company Watson International Ltd, and please click the link below for details.
http://www.watson-int.com/sodium-levofolinate-cas-1141892-29-6/