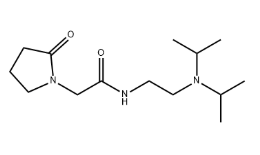 Pramiracetam CAS 68497-62-1
Identification
CAS Number
68497-62-1
Name
Pramiracetam
Synonyms
1-Pyrrolidineacetamide, N-[2-[bis(1-methylethyl)amino]ethyl]-2-oxo- [ACD/Index Name]
5054
68497-62-1 [RN]
Amacetam
N-[2-(Diisopropylamino)ethyl]-2-(2-oxo-1-pyrrolidinyl)acetamid [German] [ACD/IUPAC Name]
N-[2-(Diisopropylamino)ethyl]-2-(2-oxo-1-pyrrolidinyl)acetamide [ACD/IUPAC Name]
N-[2-(Diisopropylamino)éthyl]-2-(2-oxo-1-pyrrolidinyl)acétamide [French] [ACD/IUPAC Name]
N-[2-(Diisopropylamino)ethyl]-2-(2-oxopyrrolidin-1-yl)acetamide
N-[2-(diisopropylamino)ethyl]-2-oxo-1-pyrrolidineacetamide
N-[2-(dipropan-2-ylamino)ethyl]-2-(2-oxopyrrolidin-1-yl)acetamide
N-[2-[Bis(1-methylethyl)amino]ethyl]-2-oxo-1-pyrrolidineacetamide
Neupramir
Pramiracetam [INN] [Wiki]
Pramiracetamum [Latin]
Pramistar
Remen
[68497-62-1]
1-Pyrrolidineacetamide, N-(2-(bis(1-methylethyl)amino)ethyl)-2-oxo-
Amacetam;Vinpotropil;Pramistar;Neupramir;Remen
HS-0092
MFCD00867219 [MDL number]
MFCD01688385 [MDL number]
N-(2-(diisopropylamino)ethyl)-2-(2-oxopyrrolidin-1-yl)acetamide
N-(2-Diisopropylamino-ethyl)-2-(2-oxo-pyrrolidin-1-yl)-acetamide
N-[2-(di(propan-2-yl)amino)ethyl]-2-(2-oxopyrrolidin-1-yl)acetamide
N-[2-(di(propan-2-yl)amino)ethyl]-2-(2-oxopyrrolidin-1-yl)ethanamide
N-[2-(diisopropylamino)ethyl]-2-(2-ketopyrrolidin-1-yl)acetamide
N-[2-[di(propan-2-yl)amino]ethyl]-2-(2-oxo-1-pyrrolidinyl)acetamide
N-[2-[di(propan-2-yl)amino]ethyl]-2-(2-oxopyrrolidin-1-yl)acetamide
N-{2-[bis(propan-2-yl)amino]ethyl}-2-(2-oxopyrrolidin-1-yl)acetamide
PI-44719
pramiracétam
Pramiracetam sulfate
Pramiracetam/CI-879
PramiracetamSulfate
pramiracetamum
Pramiracetamum [INN-Latin]
Vinpotropil
прамирацетам
براميراسيتام
普拉西坦
SMILES
CC(C)N(CCNC(=O)CN1CCCC1=O)C(C)C
StdInChI
InChI=1S/C14H27N3O2/c1-11(2)17(12(3)4)9-7-15-13(18)10-16-8-5-6-14(16)19/h11-12H,5-10H2,1-4H3,(H,15,18)
StdInChIKey
ZULJGOSFKWFVRX-UHFFFAOYSA-N
Molecular Formula
C14H27N3O2
Molecular Weight
269.38
Properties
Appearance
White powder
Melting Point
47-48°C
Safety Data
Symbol

GHS07
Signal Word
Warning
Hazard statements
H302
RIDADR
NONH for all modes of transport
WGK Germany
3
Specifications and Other Information of Our Pramiracetam CAS 68497-62-1
Identification Methods
HNMR, HPLC
Purity
98% min
Shelf Life
2 years
Storage
Under room temperature away from light
Known Application
Pramiracetam is a pyrrolidone brain metabolism improving drug. It is a central nerve drug that can improve memory and anti-amnesia. It has a strong ability to improve brain function, enhance memory, and promote brain agility. It is clinically suitable for the elderly Attention and memory disorders, benign aging and forgetfulness, prevention of senile dementia (Alzheimer's disease), and enhancement of memory. Pramiracetam is also used in bodybuilding exercises as an additive for blood vessel expansion. N,N-Diisopropylethylenediamine is an important intermediate for preparing Pramiracetam.
Links
Watson International Ltd
This product is sold exclusively through our sales company Watson International Ltd, and please click the link below for details.
http://www.watson-int.com/pramiracetam-cas-68497-62-1/