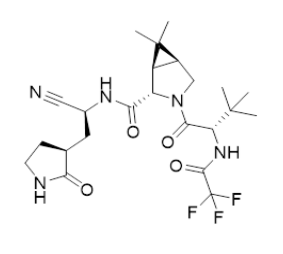 PF-07321332 CAS 2628280-40-8
Identification
CAS Number
2628280-40-8
Name
PF-07321332
Synonyms
(1R,2S,5S)-N-[(1S)-1-cyano-2-[(3S)-2-oxopyrrolidin-3-yl]ethyl]-3-[(2S)-3,3-dimethyl-2-[(2,2,2-trifluoroacetyl)amino]butanoyl]-6,6-dimethyl-3-azabicyclo[3.1.0]hexane-2-carboxamide
PF-07321332;
UNII-7R9A5P7H32;
GTPL11503;
CHEBI:170007;
7R9A5P7H32;
EX-A5024;
PF07321332;
PF 07321332;
(1R,2S,5S)-N-[(1S)-1-cyano-2-[(3S)-2-oxopyrrolidin-3-yl]ethyl]-3-[(2S)-3,3-dimethyl-2-(2,2,2-trifluoroacetamido)butanoyl]-6,6-dimethyl-3-azabicyclo[3.1.0]hexane-2-carboxamide;
(1R,2S,5S)-N-{(1S)-1-cyano-2-[(3S)-2-oxopyrrolidin-3-yl]ethyl}-6,6-dimethyl-3-[3-methyl-N-(trifluoroacetyl)-L-valyl]-3-azabicyclo[3.1.0]hexane-2-carboxamide;
(1R,2S,5S)-N-[(1S)-1-cyano-2-[(3S)-2-oxopyrrolidin-3-yl]ethyl]-3-[(2S)-3,3-dimethyl-2-[(2,2,2-trifluoroacetyl)amino]butanoyl]-6,6-dimethyl-3-azabicyclo[3.1.0]hexane-2-carboxamide;
(1R,2S,5S)-N-[(1S)-1-cyano-2-[(3S)-2-oxo-3-pyrrolidinyl]ethyl]-3-[(2S)-3,3-dimethyl-1-oxo-2-[(2,2,2-trifluoro-1-oxoethyl)amino]butyl]-6,6-dimethyl-3-azabicyclo[3.1.0]hexane-2-carboxamide;
(1R,2S,5S)-N-[(1S)-1-cyano-2-[(3S)-2-oxidanylidenepyrrolidin-3-yl]ethyl]-3-[(2S)-3,3-dimethyl-2-[2,2,2-tris(fluoranyl)ethanoylamino]butanoyl]-6,6-dimethyl-3-azabicyclo[3.1.0]hexane-2-carboxamide;
(1R,2S,5S)-N-[(1S)-1-cyano-2-[(3S)-2-ketopyrrolidin-3-yl]ethyl]-3-[(2S)-3,3-dimethyl-2-[(2,2,2-trifluoroacetyl)amino]butanoyl]-6,6-dimethyl-3-azabicyclo[3.1.0]hexane-2-carboxamide
SMILES
CC1(C2C1C(N(C2)C(=O)C(C(C)(C)C)NC(=O)C(F)(F)F)C(=O)NC(CC3CCNC3=O)C#N)C
StdInChI
InChI=1S/C23H32F3N5O4/c1-21(2,3)16(30-20(35)23(24,25)26)19(34)31-10-13-14(22(13,4)5)15(31)18(33)29-12(9-27)8-11-6-7-28-17(11)32/h11-16H,6-8,10H2,1-5H3,(H,28,32)(H,29,33)(H,30,35)/t11-,12-,13-,14-,15-,16+/m0/s1
StdInChIKey
LIENCHBZNNMNKG-OJFNHCPVSA-N
Molecular Formula
C23H32F3N5O4
Molecular Weight
499.5
Properties
Appearance
White powder
Safety Data
RIDADR
NONH for all modes of transport
WGK Germany
3
Specifications and Other Information of Our PF-07321332 CAS 2628280-40-8
Identification Methods
HNMR, HPLC
Purity
98% min
Shelf Life
3 years
Storage
Store at 2-8℃ for long time
Known Application
PF-07321332 is an orally bioavailable 3C-like protease (3CLPRO) inhibitor. This drug is being investigated for safety, tolerability, and pharmacokinetics before moving on to studies of efficacy in the treatment or prophylaxis of COVID-19. 3CLPRO is responsible for cleaving polyproteins 1a and 1ab of SARS-CoV-2. PF-07321332 is an oral COVID-19 antiviral clinical candidate. By inhibiting the main protease, PF-07321332 prevents the virus from cleaving long protein chains into the parts it needs to reproduce itself.
General View of Documents
Links
This product is developed by our R&D company Watson International Ltd (https://www.watson-int.com/).