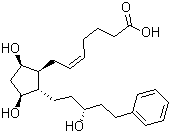 Latanoprost Related Compound E CAS 41639-83-2
Identification
CAS Number
41639-83-2
Name
Latanoprost Related Compound E(Latanoprost (free acid))
Synonyms
(5Z)-7-{(1R,2R,3R,5S)-3,5-Dihydroxy-2-[(3R)-3-hydroxy-5-phenylpentyl]cyclopentyl}-5-heptenoic acid [ACD/IUPAC Name]
(5Z)-7-{(1R,2R,3R,5S)-3,5-Dihydroxy-2-[(3R)-3-hydroxy-5-phenylpentyl]cyclopentyl}-5-heptensäure [German] [ACD/IUPAC Name]
(5Z)-7-{(1R,2R,3R,5S)-3,5-Dihydroxy-2-[(3R)-3-hydroxy-5-phenylpentyl]cyclopentyl}hept-5-enoic acid
(5Z,9α,11α,15R)-9,11,15-Trihydroxy-17-phenyl-18,19,20-trinor-prost-5-en-1-oic acid
(Z)-7-[(1R,2R,3R,5S)-3,5-dihydroxy-2-[(3R)-3-hydroxy-5-phenylpentyl]cyclopentyl]hept-5-enoic acid
41639-83-2 [RN]
5-Heptenoic acid, 7-[(1R,2R,3R,5S)-3,5-dihydroxy-2-[(3R)-3-hydroxy-5-phenylpentyl]cyclopentyl]-, (5Z)- [ACD/Index Name]
Acide (5Z)-7-{(1R,2R,3R,5S)-3,5-dihydroxy-2-[(3R)-3-hydroxy-5-phénylpentyl]cyclopentyl}-5-hepténoïque [French] [ACD/IUPAC Name]
Latanoprost (free acid)
Latanoprost acid
latanoprost free acid
Latanoprost Related Compound E
MFCD08056084
(5Z)-7-[(1R,2R,3R,5S)-3,5-dihydroxy-2-[(3R)-3-hydroxy-5-phenylpentyl]cyclopentyl]hept-5-enoic acid
(5Z,9α,11α,15R)-9,11,15-Trihydroxy-17-phenyl-18,19,20-trinor-prost-5-en-1-oic acid
(Z)-7-[(1R,2R,3R,5S)-3,5-dihydroxy-2-[(3R)-3-hydroxy-5-phenyl-pentyl]cyclopentyl]hept-5-enoic acid
[41639-83-2]
1224443-47-3 [RN]
13,14-dihydro-17-phenyl-18,19,20-trinor-PGF2α
7-[3,5-Dihydroxy-2-(3-hydroxy-5-phenyl-pentyl)-cyclopentyl]-hept-5-enoic acid
9?,11?,15R-trihydroxy-17-phenyl-18,19,20-trinor-prost-5Z-en-1-oic acid
9α,11α,15R-trihydroxy-17-phenyl-18,19,20-trinor-prost-5Z-en-1-oic acid
9α,11α,15R-trihydroxy-17-phenyl-18,19,20-trinor-prost-5Z-en-1-oic acid
https://www.ebi.ac.uk/chebi/searchId.do?chebiId=CHEBI:63925
latanoprost (free acid form)
Latanoprost Acid-d4
Latanoprost impurity H
Latanoprostacid
latanoprost-free acid
latanoprost-free acid|PHXA85
Latanprost free acid
Latanprost free acid
Latanprost?free?acid
NCGC00165820-01
PHXA85
SMILES
c1ccc(cc1)CC[C@@H](CC[C@H]2[C@@H](C[C@@H]([C@@H]2C/C=C\CCCC(=O)O)O)O)O
StdInChI
InChI=1S/C23H34O5/c24-18(13-12-17-8-4-3-5-9-17)14-15-20-19(21(25)16-22(20)26)10-6-1-2-7-11-23(27)28/h1,3-6,8-9,18-22,24-26H,2,7,10-16H2,(H,27,28)/b6-1-/t18-,19+,20+,21-,22+/m0/s1
StdInChIKey
HNPFPERDNWXAGS-NFVOFSAMSA-N
Molecular Formula
C23H34O5
Molecular Weight
390.513
Properties
Appearance
Light yellow to brown liquid
Safety Data
RIDADR
NONH for all modes of transport
WGK Germany
3
Specifications and Other Information of Our Latanoprost Related Compound E CAS 41639-83-2
Identification Methods
HNMR, HPLC
Purity
95% min
Water
≤1.0%
Loss on Drying
≤1.0%
Total Impurities
≤3.0%
Shelf Life
2 years
Storage
Store at 2°C ~ 8°C for long time, in container tightly sealed; Protect from light and moisture.
Known Application
Latanoprostacid is an analog of prostaglandin (PG) F2α. It can be used to reduce intraocular pressure and is often used in the treatment of glaucoma.
Links
This product is developed by our R&D company Watson International Ltd (https://www.watson-int.com/).