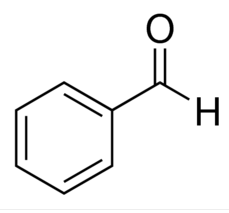 Benzaldehyde CAS 100-52-7
Identification
CAS Number
100-52-7
Name
Benzaldehyde
Synonyms
100-52-7 [RN]
202-860-4 [EINECS]
471223 [Beilstein] [WLN]
Benzaldehyd [German] [ACD/IUPAC Name]
Benzaldehyde [ACD/Index Name] [ACD/IUPAC Name]
Benzaldéhyde [French] [ACD/IUPAC Name]
Bitter almond
VHR [WLN]
Benzenecarbinal
benzenecarbonal
Benzenemethylal
Benzoic acid aldehyde
Benzoic aldehyde
BEZ
HBX
MFCD00801585 [MDL number]
Phenylformaldehyde
Phenylmethanal
苯甲醛 [Chinese]
SMILES
c1ccc(cc1)C=O
StdInChI
InChI=1S/C7H6O/c8-6-7-4-2-1-3-5-7/h1-6H
StdInChIKey
Molecular Formula
C7H6O
Molecular Weight
106.122
EINECS
202-860-4
Beilstein Registry Number
471223
MDL Number
Properties
Appearance
Colorless transparent liquid or Colorless to pale yellow
Self-ignition point
192℃
Boiling Point
179℃
Flash point
64℃
Freezing point
-26℃
Specific gravity
( ρH2O =1):1.04;(ρAir =1):3.66
Safety Data
Symbol

GHS07
Signal Word
Warning
Hazard statements
H302 + H312-H315
Precautionary Statements
P264-P270-P280-P301 + P312 + P330-P302 + P352 + P312-P501
Personal Protective Equipment
Eyeshields, Faceshields, full-face respirator (US), Gloves, multi-purpose combination respirator cartridge (US), type ABEK (EN14387) respirator filter
RIDADR
UN 1990 9 / PGIII
WGK Germany
1
RTECS
CU4375000
Specifications and Other Information of Our Benzaldehyde CAS 100-52-7
Specification
Specification
Items of Analysis
Top-Grade
First-Grade
Color (Hazen)
≤50
≤50
Purity (%)
≥99.5
≥99.0
Acidity (As Benzoic Acid) (%)
≤0.5
≤1.0
Chloride (%)
≤0.05
≤1.0
Specific Gravity(20℃,kg/ m
3 )
1044-1049
1044-1049
Storage
Benzaldehyde should be stored in a cool, well-ventilated warehouse, kept away from ignition sources, heat and flame, and avoided exposing to direct sunshine. It is better to be packed in sealed PVC bags under nitrogen air at a pitch and stored separately from oxidant.
Known Application
It is widely applied to the fields such as syntheses of pharmaceuticals, perfumes and so on.
Links
Watson International Ltd
This product is sold exclusively through our sales company Watson International Ltd, and please click the link below for details.
http://www.watson-int.com/benzaldehyde-cas-100-52-7/