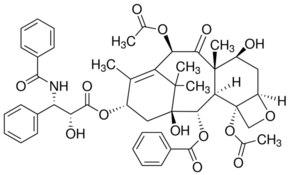 10-DAB semisynthetic paclitaxel CAS 33069-62-4
Identification
CAS Number
33069-62-4
Name
10-DAB semisynthetic paclitaxel
Synonyms
(1S,2S,3R,4S,7R,9S,10S,12R,15S)-4,12-bis(acetyloxy)-1,9-dihydroxy-15-({(2R,3S)-2-hydroxy-3-phenyl-3-[(phenylcarbonyl)amino]propanoyl}oxy)-10,14,17,17-tetramethyl-11-oxo-6-oxatetracyclo[11.3.1.03,10.04,7]heptadec-13-en-2-yl benzoate
(1S,2S,3R,4S,7R,9S,10S,12R,15S)-4,12-Bis(acetyloxy)-1,9-dihydroxy-15-({(2R,3S)-2-hydroxy-3-phenyl-3-[(phenylcarbonyl)amino]propanoyl}oxy)-10,14,17,17-tetramethyl-11-oxo-6-oxatetracyclo[11.3.1.03,10.04,7]heptadec-13-en-2-ylbenzolcarboxylat
(2a,5b,7b,10b,13a)-4,10-bis(acetyloxy)-13-{[(2R,3S)-3-(benzoylamino)-2-hydroxy-3-phenylpropanoyl]oxy}-1,7-dihydroxy-9-oxo-5,20-epoxytax-11-en-2-yl benzoate
(2α,5β,7β,10β,13α)-4,10-bis(acetyloxy)-1,7-dihydroxy-13-({(2R,3S)-2-hydroxy-3-phenyl-3-[(phenylcarbonyl)amino]propanoyl}oxy)-9-oxo-5,20-epoxytax-11-en-2-yl benzoate
(2α,5β,7β,10β,13α)-4,10-Diacetoxy-13-{[(2R,3S)-3-(benzoylamino)-2-hydroxy-3-phenylpropanoyl]oxy}-1,7-dihydroxy-9-oxo-5,20-epoxytax-11-en-2-yl benzoate [ACD/IUPAC Name]
(2α,5β,7β,10β,13α)-4,10-Diacetoxy-13-{[(2R,3S)-3-(benzoylamino)-2-hydroxy-3-phenylpropanoyl]oxy}-1,7-dihydroxy-9-oxo-5,20-epoxytax-11-en-2-yl-benzoat [German] [ACD/IUPAC Name]
33069-62-4 [RN]
5b,20-Epoxy-1,2a,4,7b,10b,13a-hexahydroxytax-11-en-9-one 4,10-Diacetate 2-Benzoate 13-Ester with (2R,3S)-N-Benzoyl-3-phenylisoserine
Anzatax [Trade name]
benzenepropanoic acid, b-(benzoylamino)-a-hydroxy-, (2aR,4S,4aS,6R,9S,11S,12S,12aR,12bS)-6,12b-bis(acetyloxy)-12-(benzoyloxy)-2a,3,4,4a,5,6,9,10,11,12,12a,12b-dodecahydro-4,11-dihydroxy-4a,8,13,13-tetramethyl-5-oxo-7,11-methano-1H-cyclodeca[3,4]benz[1,2-b]oxet-9-yl ester, (aR,bS)-
Benzenepropanoic acid, β-(benzoylamino)-α-hydroxy-, (2aR,4S,4aS,6R,9S,11S,12S,12aR,12bS)-6,12b-bis(acetyloxy)-12-(benzoyloxy)-2a,3,4,4a,5,6,9,10,11,12,12a,12b-dodecahydro-4,11-dihydroxy-4a,8,13
,13-tetramethyl-5-oxo-7,11-methano-1H-cyclodeca[3,4]benz[1,2-b]oxet-9-yl ester, (αR,βS)- [ACD/Index Name]
Benzenepropanoic acid, β-(benzoylamino)-α-hydroxy-, (2aR,4S,4aS,6R,9S,11S,12S,12aR,12bS)-6,12b-bis(acetyloxy)-12-(benzoyloxy)-2a,3,4,4a,5,6,9,10,11,12,12a,12b-dodecahydro-4,11-dihydroxy-4a,8,13,13-tetramethyl-5-oxo-7,11-methano-1H-cyclodeca[3,4]benz[1,2-b]oxet-9-yl ester, (αR,βS)-
Benzoate de (2α,5β,7β,10β,13α)-4,10-diacétoxy-13-{[(2R,3S)-3-(benzoylamino)-2-hydroxy-3-phénylpropanoyl]oxy}-1,7-dihydroxy-9-oxo-5,20-époxytax-11-én-2-yle [French] [ACD/IUPAC Name]
BMS 181339-01
Ebetaxel [Trade name]
LipoPac [Trade name]
Onxol [Trade name]
paclitaxel [Spanish] [INN]
paclitaxel [French] [INN]
Paclitaxel [BAN] [INN] [USAN] [Wiki]
paclitaxelum [Latin] [INN]
Paxceed [Trade name]
Paxene
Peclitaxel
Plaxicel [Trade name]
TaxAlbin
Taxol [Trade name]
Taxol A
UNII-P88XT4IS4D
Yewtaxan
паклитаксел [Russian] [INN]
باكليتاكسال [Arabic] [INN]
紫杉醇 [Chinese] [INN]
cyclopax
(1R,5S,6S,7R,10S,14S,16S)-6,10-dihydroxy-5,7,9,9-tetramethyl-14-[(E)-1-(2-methyl-1,3-thiazol-4-yl)prop-1-en-2-yl]-13,17-dioxabicyclo[14.1.0]heptadecane-8,12-dione
(1S,2S,3R,4S,7R,9S,10S,12R,15S)-4,12-bis(acetyloxy)-1,9-dihydroxy-15-{[(2R,3S)-2-hydroxy-3-phenyl-3-(phenylformamido)propanoyl]oxy}-10,14,17,17-tetramethyl-11-oxo-6-oxatetracyclo[11.3.1.03,10.04,7]heptadec-13-en-2-yl benzoate
(2aR-(2aα,4β,4aβ,6β,9α(α R,βS),11α,12α,12bα))-β-(Benzoylamino)-α-hydroxybenzenepropanoic acid 6,12b-bis(acetyloxy)-12-(benzoyloxy)-2a,3,4,4a,5,6,9,10,11,12,12a,12b-dodecahydro-4,11-dihydroxy-4a,8,13,13-tetramethyl-5-oxo-7,11-methano-1H-cyclodeca(3,4)benz(1,2-b)oxet-9-yl ester
(2aR,4S,4aS,6R,9S,11S,12S,12aR,12bS)-6,12b-bis(acetyloxy)-12-(benzoyloxy)-2a,3,4,4a,5,6,9,10,11,12,12a,12b-dodecahydro-4,11-dihydroxy-4a,8,13,13-tetramethyl-5-oxo-7,11-methano-1H-cyclodeca[3,4]benz[1,2-b]oxet-9-yl (aR,bS)-b-(benzoylamino)-a-hydroxybenzenepropanoate
(2aR,4S,4aS,6R,9S,11S,12S,12aR,12bS)-9-(((2R,3S)-3-benzamido-2-hydroxy-3-phenylpropanoyl)oxy)-12-(benzoyloxy)-4,11-dihydroxy-4a,8,13,13-tetramethyl-5-oxo-2a,3,4,4a,5,6,9,10,11,12,12a,12b-dodecahydro-1H-7,11-methanocyclodeca[3,4]benzo[1,2-b]oxete-6,12b-diyl diacetate
4α,10β-bis(acetyloxy)-13α-[(2S,3S)-3-(benzoylamino)-2-hydroxy-3-phenylpropanoyloxy]-1,7β-dihydroxy-9-oxo-5β,20-epoxytax-11-en-2α-yl benzoate
5β,20-Epoxy-1,2-α,4,7β,10β,13α-hexahydroxytax-11-en-9-one 4,10-diacetate 2-benzoate 13-ester with (2R,3S)-N-benzoyl-3-phenylisoserine
ACon1_002231
Benzenepropanoic acid, β-(benzoylamino)- α-hydroxy-, 6,12b-bis(acetyl oxy)-12-(benzoyloxy)- 2a,3,4,4a,5,6,9,10,11,12,12a,12b,- dodecahydro-4,11- dihydroxy-4a,8,13,13-tetramethyl-5-oxo- 7,11-methano- 1H-cyclodeca[3,4]benz[1,2-b]oxet-9-yl ester, [2aR- [2aα,4β,4aβ,6β,9α(α. R,βS),11α,12α,12aα,12bα]]-
BMS-181339-01
BPBio1_000320
BSPBio_000290
cMAP_000068
DA8340700
DHP-107
DHP-208
Genaxol
Genetaxyl
Genexol
Genexol-PM
Intaxel
MEGxp0_001940
MFCD00869953 [MDL number]
Mitotax
Nanotaxel
OAS-PAC-100
OncoGel
Onxol; Paxceed
Paclical
Pacligel
Paxceed (Trade name)
Paxene (Trade name)
Paxoral
Prestwick3_000155
STOCK1N-71343
TA1
Tax-11-en-9-one, 5β,20-epoxy-1,2α,4,7β, 10β,13α- hexahydroxy-, 4,10-diacetate 2- benzoate,13-ester with (2R,3S)-N-benzoyl-3-phenylisoserine
Tax-11-en-9-one, 5β,20-epoxy-1,2α,4,7β,10β,13α- hexahydroxy-, 4,10-diacetate 2-benzoate, 13-ester with (2R,3S)-N-benzoyl-3-phenylisoserine (8CI)
Tax-11-en-9-one, 5β,20-epoxy-1,2α,4,7β,10β,13α-hexahydroxy-, 4,10-diacetate 2-benzoate 13-ester with (2R,3S)-N-benzoyl-3-phenylisoserine (8CI)
Taxol®
Taxol; Taxol A
Xorane
SMILES
CC1=C2[email protected]C)(C[[email protected]@H]1OC(=O)[email protected]@Hc6ccccc6)O)O)OC(=O)c7ccccc7)(CO4)OC(=O)C)O)C)OC(=O)C
StdInChI
InChI=1S/C47H51NO14/c1-25-31(60-43(56)36(52)35(28-16-10-7-11-17-28)48-41(54)29-18-12-8-13-19-29)23-47(57)40(61-42(55)30-20-14-9-15-21-30)38-45(6,32(51)22-33-46(38,24-58-33)62-27(3)50)39(53)37(59-26(2)49)34(25)44(47,4)5/h7-21,31-33,35-38,40,51-52,57H,22-24H2,1-6H3,(H,48,54)/t31-,32-,33+,35-,36+,37+,38-,40-,45+,46-,47+/m0/s1
StdInChIKey
RCINICONZNJXQF-MZXODVADSA-N
Molecular Formula
C47H51NO14
Molecular Weight
853.92
Beilstein Registry Number
1420457
MDL Number
MFCD00869953
Properties
Appearance
White to off-white powder
Safety Data
Symbol
GHS05, GHS07
Signal Word
Danger
Hazard statements
H315-H317-H318-H334-H335-H341-H361-H371
Precautionary Statements
P260-P280-P305 + P351 + P338-P342 + P311
Personal Protective Equipment
Eyeshields, Faceshields, full-face particle respirator type N100 (US), Gloves, respirator cartridge type N100 (US), type P1 (EN143) respirator filter, type P3 (EN 143) respirator cartridges and purpose. It may be toxic or hazardous, and should be handled only by qualified individuals trained in laboratory procedures. The buyer will be responsible to warn and inform any person that may be in contact with the product of the potential risks and hazards, as well as to ensure that purchase, use and disposal of the product comply with local laws and regulations.
RIDADR
UN 3224A1 4.1 / PGII
WGK Germany
3
RTECS
DA8340700
Specifications and Other Information of Our 10-DAB semisynthetic paclitaxel CAS 33069-62-4
Identification Methods
HPLC
Purity
99%~101%
Related substance
1.2%max
IO-Deacetyl-baccatin III
0.10%max
Baccatin III
0.2%max
Photodegradant
0.1%max
10-Deacctyl paclitaxel
0.2%max
2-Debenzoylpaclitaxcl-2-pentenoate
0.7%max
Oxelanenng opened,acetyl and benzoyl migrated
0.4%max
10-Acetoacetylpaclitaxel
0.4%max
10-Deacetyl-7-epi paclitaxel
0.4%max
7-Epipaclitaxel(E)
0.4%max
10,13-Bissidechain paclitaxel
0.4%max
7-Acetylpaclitaxel
0.5%max
13-Tes-baccatin III
0.1%max
7-Tes-paclitaxel
0.2%max
Others
0.1%max of each
Residual Solvents
Total
1490 ug/g max
Dichloromethane
60 ug/g max
n-Butanol
100 ug/g max
Acetone
1000 ug/g max
Petroleum ether
100 ug/g max
Moisture
3.0%max
Heavy Metals
0.002% max
Bacterial Endotoxins
Max 0.3EU/mg Paclitaxel
Total aerobic microbial
Max 50cfu/g Paclitaxel
Staphaureus, Pseudomonas aeruginosa, Salmonella species and E.Coli
Meet the requirements
Residue on Ignition
0.2%max
Fungi
Max 10cfu/g Paclitaxel
Shelf Life
3 years
Storage
Under room temperature away from light
Productivity
800kg/year
Known Application
It is an anti-tumor medicinal plants, for ovarian cancer, breast cancer and the like.
Links
Watson International Ltd
This product is sold exclusively through our sales company Watson International Ltd, and please click the link below for details.
http://www.watson-int.com/10-dab-semisynthetic-paclitaxel-cas-33069-62-4/